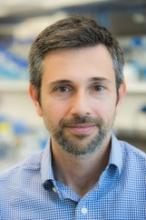 Seminar Subject: Engineering microbes as cell factories for the discovery of new drugs and the production of difficult-to-acquire bioproducts
Event Category: Πρόγραμμα Σεμιναρίων Τμήματος (Webinars)
Speaker Name: Γεώργιος Σκρέτας
Speakers Affiliation: National Hellenic Research Foundation
Seminar Room: Βιβλιοθήκη "Αλκιβιάδης Χ. Παγιατάκης"
Ημερομηνία: Wed, Jul 01 2020, Ώρα: 12:00 - 13:00
Abstract
The main goal of our lab is the development of engineered microbial cells with the ability to perform novel and complex functions. We utilize simple organisms, such as the bacterium Escherichia coli, and seek to evolve them into efficient "cell factories" for the production of valuable chemical and biological products, and for the performance of industrially important processes, such as drug sensing and discovery, biotransformations, etc. Genetic engineering techniques are applied in order to redesign and rearrange the genome of the organism of interest, while biomolecular engineering and synthetic biology approaches are utilized so as to introduce novel functions in the cell. A key aspect of the work that we carry out is the design and development of high-throughput screening systems, which are used to isolate the rare biomolecules and microbial strains that execute the desired function among large combinatorial libraries comprising hundreds of millions of variants.
Speakers Short CV
Georgios Skretas graduated from the School of Chemical Engineering of the National Technical University of Athens (Greece) in 1998 and received his PhD in Chemical and Biological Engineering from Princeton University (USA) in 2006. He then moved on to the University of Texas at Austin (USA) to carry out post-doctoral research under the guidance of Prof. George Georgiou. In 2010, he received a Marie Curie International Reintegration Fellowship to return back to Greece and the National Hellenic Research Foundation. Since then, Dr. Skretas has been Principal Investigator at the Institute of Chemical Biology, where he currently holds the rank of Research Associate Professor. He has recently been awarded with a Consolidator Grant by the European Research Council (ERC) to develop engineered bacteria that will function as a discovery platform for new drugs against diseases caused by protein misfolding and aggregation. Dr. Skretas is also Founder and Chief Executive Officer of ResQ Biotech, an early-stage drug discovery company established in 2019 at the Patras Science Park.