Σεμινάριο Τμήματος - Ιωάννης Καρτσωνάκης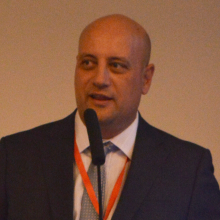 Seminar Subject: Multifunctional materials and structures for self-healing applications
Event Category: Πρόγραμμα Σεμιναρίων Τμήματος (Webinars)
Speaker Name: Ιωάννης Καρτσωνάκης
Speakers Affiliation: Εθνικό Μετσόβιο Πολυτεχνείο
Seminar Room: Αίθουσα Σεμιναρίων 1
Ημερομηνία: Tue, Jan 12 2021, Ώρα: 16:00 - 17:15
Abstract
The possibility of producing materials able to perform different functions and respond to external stimuli will undoubtedly be an extremely important research area for the foreseeable future. These new materials will play a crucial role, for example in additive manufacturing, since they will be designed and structured to perform specific operations and adapt autonomously to external conditions and variables, without the need for additional devices. These so-called 'intelligent' materials meet application demands of multi-functionality and adaptability, dramatically reducing the complexity of systems and making solutions simpler to implement. This consequently renders materials the enabler for many expected developments, promoting creativity and innovation across many different fields.
Multifunctional Material Systems approach the concept of ideality by being more autonomous and polyvalent than their counterpart monofunctionals. A multifunctional material system should integrate in itself the functions of two or more different components and/or composites/materials/structures increasing the total system's efficiency (Figure 1).
The purpose of this study is to present the design, development and validation of multifunctional material systems that can perform functions in several fields of applications such as Corrosion protective Coatings [1-4], Antifouling coatings, Concrete [5], Shipping, Aviation, Automotive industry and Drug delivery. The technology description of these materials comprises the categories of Core-shell materials, Hollow containers, Mesoporous spheres and Layered Double Hydroxides. These materials were fabricated via combination of sol-gel technique together with radical polymerization. Furthermore, the synthesis, application and characterization of intrinsic self-healing coatings for corrosion protection of metal alloys is described. The protective and self-healing ability of intact and scribed coatings as well as their responsiveness and their ability to restore their anticorrosion properties after thermal treatment are studied.
Δείτε το video της ομιλίας του κ. Καρτσωνάκη
References
[1] I.A. Kartsonakis, C.A. Charitidis, Applied Sciences (2020) 10, 6594, doi:10.3390/app10186594
[2] I.A. Kartsonakis, P. Stamatogianni, E.K. Karaxi, C.A. Charitidis, Applied Sciences, (2020) 10, 290, doi: 10.3390/app10010290
[3] E.K Karaxi, I.A. Kartsonakis, C.A. Charitidis, Frontiers in Materials, section Environmental Materials (2019) 6:222, https://doi.org/10.3389/fmats.2019.00222
[4] I.A. Kartsonakis, E. Athanasopoulou, D. Snihirova, B. Martins, M.A. Koklioti, M.F. Montemor, G. Kordas, C.A. Charitidis, Corrosion Science (2014) 85, 147-159, https://doi.org/10.1016/j.corsci.2014.04.009
[5] I. Kanellopoulou, E.K. Karaxi, A. Karatza, I.A. Kartsonakis, C.A. Charitidis, Fatigue & Fracture of Engineering Materials & Structures (2019) 1-16, https://doi.org/10.1111/ffe.12998
Speakers Short CV
Ο Ιωάννης Καρτσωνάκης είναι Χημικός με  Μεταπτυχιακό Δίπλωμα Ειδίκευσης: «Επιστήμη Πολυμερών και Εφαρμογές της». Έχει Διδακτορικό στη Χημεία με αντικείμενο την προστασία κραμάτων μετάλλων από Διάβρωση, σύνθεση και χαρακτηρισμό υβριδικών οργανικών-ανόργανων επιστρώσεων καθώς επίσης και νανοδοχείων. Έχει εργαστεί σε 8 Ευρωπαϊκά και 6 Ελληνικά προγράμματα ως Χημικός Ερευνητής. Είναι συν-συγγραφέας σε 3 ευρεσιτεχνίες και έχει 61 δημοσιεύσεις σε διεθνή περιοδικά με κριτή, 2 δημοσιεύσεις σε διεθνή βιβλία και 74 συνεισφορές σε πρακτικά συνεδρίων και έχει δώσει 27 ομιλίες σε διεθνή συνέδρια.
Είναι μέλος των συντακτικών ομάδων "Chemistry" και "Materials"  στο περιοδικό Applied Sciences (ISSN 2076-3417; IF: 2.47), Κριτής Συντάκτης του Frontiers in Chemical Engineering, του Frontiers in Bioengineering and Biotechnology και του Frontiers in Materials, κριτής σε 56 διεθνή περιοδικά Έχει οργανώσει 4 ειδικές εκδόσεις ως προσκεκλημένος συντάκτης των περιοδικών Applied Sciences και Fibers.
Τα επιστημονικά του αντικείμενα εστιάζονται στη σύνθεση και χαρακτηρισμό νανοϋλικών, επιστρώσεων (πολυμερικών, ανόργανων, υβριδικών ανόργανων-οργανικών) καθώς επίσης και στη μελέτη διαβρωτικών διεργασιών σε υλικά. Τέλος, είναι:
εξωτερικός σύμβουλος στην

P

ö

yry

Switzerland

Ltd

για θέματα σχετικά με προστασία κραμμάτων μετάλλων από διάβρωση,

ανεξάρτητος εμπειρογνώμονας ορισμένος ως

αξιολογητής

της Γενικής Γραμματείας Έρευνας και Τεχνολογίας,

ανεξάρτητος εμπειρογνώμονας σύμβουλος ως

αναθεωρητής

έργων του επιστημονικού ταμείου της Δημοκρατίας της Σερβίας.